Preproduced from NJ Biz Magazine
A CONSULTING TEAM FROM TEE TO GREEN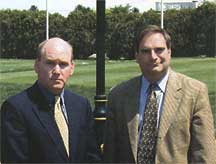 Galvin and Chris Schiavone of RDC Golf will share operating tips with fellow owners.
Over the past decade, building more golf courses in a crowded, recreation-hungry state like New Jersey seemed like a can't-miss business proposition. Dozens of courses were carved out in the state, particularly in its northwest and southeast corners. Many opened as high-end daily-fee courses, offering the golfing challenges and amenities of private clubs to golfers willing to pay $75 to $150 for an 18-hole round.
But three years of a weak economy mixed with soggy summers have left many of the state's privately owned golf courses, and particularly the high-daily-fee courses, struggling to break even.
"Over the last three years, while the demand for golf has stayed flat, the supply of golf courses has increased," says Matt Galvin, executive vice president of RDC Golf, a Monroe company that operates seven courses in New Jersey, North Carolina and Florida. "Courses are finding it harder to compete."
To help them, RDC has teamed up with Smith O'Keefe and Associates of Egg Harbor, which devises marketing strategies, to form a joint venture called Golf ProfitBuilders. It aims to provide golf course operators with advice covering everything from the nuts and bolts of daily operations to repositioning themselves in a fast-changing marketplace.
O'Keefe urges course operators to borrow a page from the hospitality industry.
"It's a good coming-together," says Teddie O'Keefe, president of Smith O'Keefe. "It filled in the pieces I needed" and "it filled in the piece they needed." The two firms agreed to link up last month and plan to hold their first seminar May 5 at Olde York Country Club in Bordentown.
Smith O'Keefe has 22 employees and annual billings of more than $4 million. RDC has revenue of more than $28 million and 500 employees at the courses it runs. Five key employees at RDC headquarters will do most of the consulting work for the company.
Galvin expects to find plenty of interested listeners for the client services he offers. "There are courses out there that four or five years ago probably didn't need assistance," he says. "Today, a lot of those owners have realized they need somebody."
Industry statistics give operators reason to worry. According to the National Golf Foundation, golfers played 518.4 million rounds in 2000. That dropped to 495 million last year.
The foundation says some 3 million of the nation's estimated 26 million golfers quit each year. Fortunately for the sport, about an equal number of newcomers take it up. Says O'Keefe: "We're not losing golfers, we're losing frequency" at which golfers take to the links.
"I think there are pockets of oversupply," says Bob Twomey, president of the New Jersey Golf Course Owners Association in Cranbury. "I think it's fair to say that with all the growth in the casino industry, there hasn't been as big a boom for the guys in golf [courses] that surround Atlantic City as they anticipated."
"Last year, everybody lost 20% to 25% of their activity," Twomey says. But, he adds, "If the weather had been typical and the economy had been decent, then I think the argument for oversupply wouldn't have been so loud."
Twomey's group represents the owners of some 100 private golf courses in New Jersey, about a third of the 300 courses in the state. Governments, both county and local, and nonprofit membership clubs own most of the rest. Twomey says the annual cost of belonging to a private club in New Jersey ranges from $2,500 to $25,000, with Donald Trump's Trump National Golf Club in Bedminster at the top of the scale.
In New Jersey, publicly owned courses provide a lower-cost option. Private operators in parts of the state where counties and municipalities have opened new courses complain that their business has been hurt by the government competition. But the private sector has created some of its own problems by binging on building high-end courses, particularly around Atlantic City.
O'Keefe has worked closely with the Greater Atlantic City Golf Association in its efforts to promote a group of eight mostly high-end clubs in the area. She says moves like marketing the area as a golfing-vacation destination and setting up a call center to schedule tee times for all eight clubs have shored up demand and pricing.
O'Keefe and Galvin have plenty of other marketing techniques in their golf bag. These include beefing up food and beverage operations at lagging courses, moving into the banquet and wedding business, positioning golf as a family activity and speeding up the pace of play.
O'Keefe advocates borrowing lessons that the hotel industry has learned about defining and serving its market. "Our mantra is you're really in the hospitality industry when you're selling golf," she says. A lot of operators "really, in theory, know that's right," but many are still "doing things the way it's always been done to the same audience and expecting a different result."
Galvin says moving upscale can be one route to higher profits. That can mean "taking a public course private and increasing the service levels and the staffing levels." He says most golfers join clubs "because they like the service levels and the camaraderie of the membership. It's like the 'Cheers' song, they want to go where everybody knows their name. It's not necessarily about the economics."
For golfers who'd rather pay by the day, the economics are favorable. As courses fight for market share, roving golfers are likely to find tee times at top-notch courses easier to get and easier to afford than at any time in recent years.
Courses that lose out can always default to real estate development. Galvin says he knows of two course owners in Bergen County and one in Monmouth County who are thinking of doing that right now.
email wquinn@njbiz.com
< back
Toll-free 1-888-893-8334